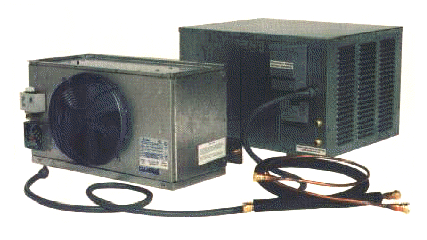 When multiple evaporator coils are required, try one of our stub-tube units. All components are factory installed, ready to be piped, charged with refrigerant, and wired at the job site.


SPLIT SYSTEMS
---
CONDENSING UNITS are mounted on a galvanized steel base with 2-1/2" legs, include factory installed drier, sight glass, fan guard, B/X cable, pressure control, programmable timer. Evaporator coil includes thermostat and expansion valve, systems are fully charged with refrigerant, come with 5 foot line set, and AEROQUIP reusable couplings. Each system is started, run thru a complete cycle and leak checked before leaving the factory.

OPTIONAL ITEMS: Headmaster low ambient control, fan cycle low ambient control, outdoor cover, pressure relief valve, solenoid valve, extra precharged tubing and electrical wire, 4 year extended compressor warranty, and 1 year labor warranty.


Choose from a wide variety of Evaporator Coils >Click Here


MEDIUM TEMPERATURE

LOW TEMPERATURE